High Tech Transmission
2944 Rosebud Rd SW,
Loganville, GA 30052
(770) 766-3421
Need a replacement transmission? Quality transmission suppliers can be hard to find. Have your 17-digit vehicle VIN# ready. Free estimates sent via text and email.
Contact: John Tolbert
Website: www.hightechtransmissioninc.com
Hours:
Mon – Fri: 8:00am – 5:30pm
Saturday: Closed
Sunday: Closed
Serving: Loganville, Grayson, Lawrencville, Lilburn, Snellville, Stone Mountain, Monroe, Conyers, Lithonia and Covington
Associations
ASE CERTIFIED MECHANIC
BBB ACCREDITED BUSINESS
Location
Shop Photos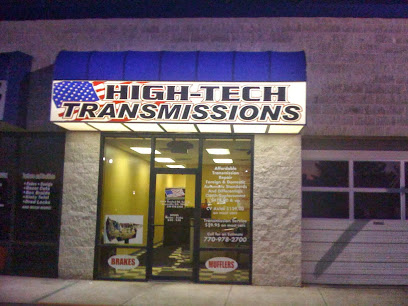 Payment Options
Visa, Mastercard, American Express, Discover, Financing Available
Please introduce yourself
My Name is John Tolbert (CEO) High Tech Transmission Inc. / ASE Certified , ATSG Member and A+ Accredited w/BBB
What services do you offer?
Transmission Rebuilds on all makes and models foreign and domestic Automatic and Standard, Transfer cases, Differential, CV axles and Drive Shafts. We've been in business for 15 years.
Why should someone choose you over the competition?
For Quick, Honest and Reliable Transmission Repair Shop that will stand behind our work.
How do you advise customers when it comes to the question of repair, rebuild or replace?
Rebuilding the Transmission is the most cost efficient and effective way Repair Transmissions.
How much do you charge (approximately) to have a transmission repaired?
Rebuilt Transmissions run $1500 -$2500 and Normally takes 2-3 Days
Replacing with remanufactured units run $2000-$3000 takes more time for shipping 4-6 Days
Quick summary of the steps of getting a car repaired at your shop.
Towing in vehicle if needed, free Diagnosis, advise customer of services needed, get authorization for repair, Repair vehicle, test drive and deliver
Do you offer warranties/guarantees on your work?
24 month or 24,000 mile Warranty
In your experience, what is the most common cause of transmission problems?
Over Heating and Lack of lube. The #1 way to extend the life of your transmission is to change the Filter and fluid
What make and model do you see the most in your shop?
We work on the big three domestic manufacturers (GM, Ford, Chrysler) equally but no major issues that I would advise not to buy.
Foreign cars tend to have better warranties and have a little more longevity.
What problem is most commonly assumed to be a transmission issue, when it actually isn't?
The most common issue is the engine misfiring, customer will describe going up a long hill and the trans is jerking.
What payment methods do you accept?
All major Credit Cards, Debit and Cash. We do offer Financing to approved applicants 90 Days same as Cash and 24 month terms
What is the best way for people to contact you for more information?
Phone: (770) 766-3421
Fair Replacement Transmission Cost by Vehicle
Find your transmission model in the table below for fair prices from reputable suppliers. Also fair labor cost for local installation at a local auto repair shop.


Get a free estimate on a remanufactured transmission by email.
Fair Remanufactured Transmission Price Ranges by Transmission Model Updated July 2018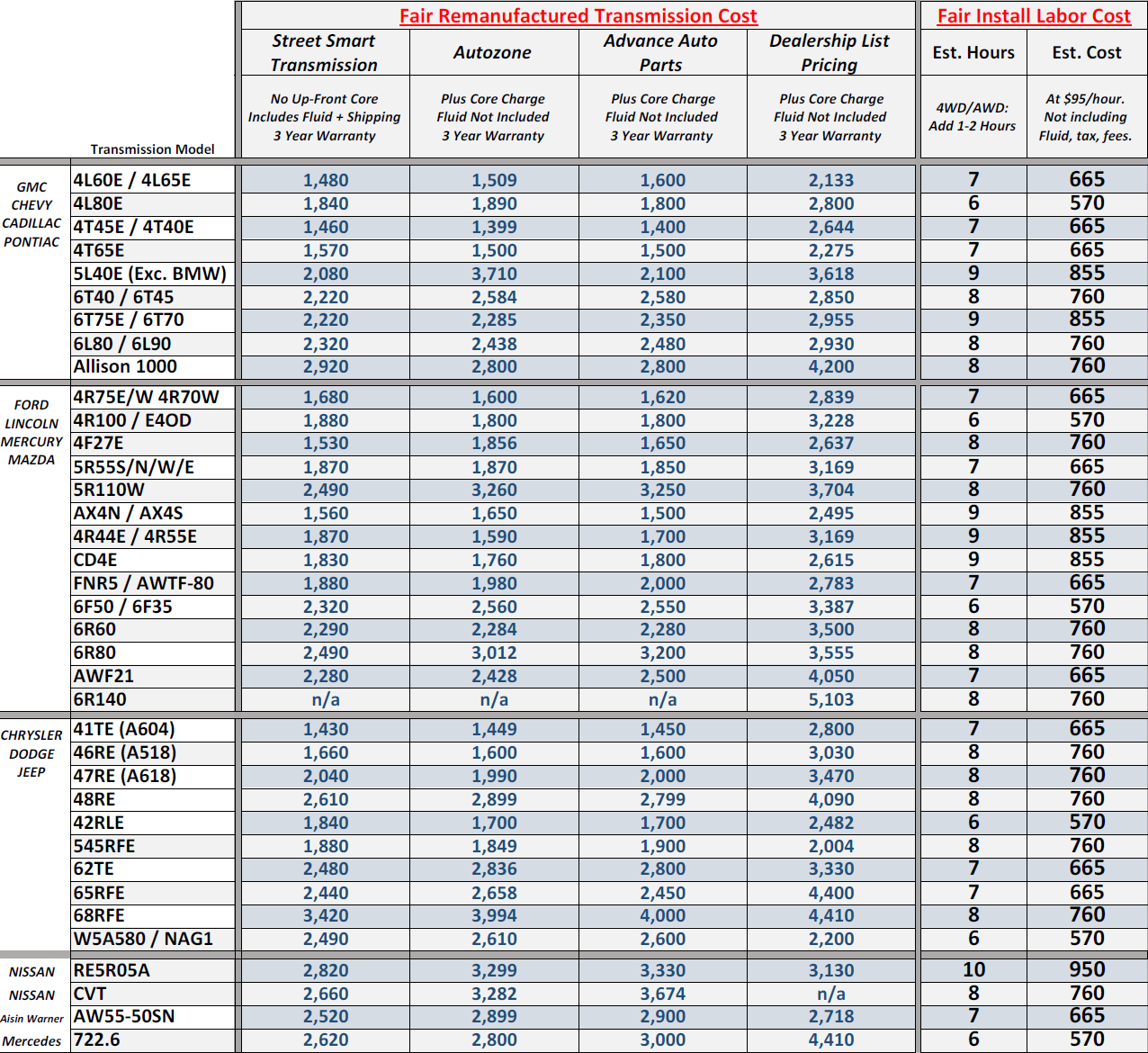 Download Replacement Transmission Cost Guide PDF
Reviews
If you've had repairs done by this shop, please leave a review below!