Please introduce yourself.
Heinz Zwingler – President.
Econo Firestone Tire & Auto Repair
Riverside, CA 92503.
Born in Germany, I have a degree in Aeronautical Engineering. I moved to America 54 years ago and have been in business for over 40 years.
We are a member of Automotive Service Counsel (ASCCA)
Need a replacement transmission? Quality transmission suppliers can be hard to find. Have your 17-digit vehicle VIN# ready. Free estimates sent via text and email.
Our website: www.econoautorepairriverside.com
We are in auto repair business for over 40 years. We service transmissions. Our shop replaces and repairs five transmissions a month.
Econo Firestone Tire & Auto Repair
7445, Arlington Ave.
Riverside, CA 92503.
951-688-8103.
Monday through Friday 7:30 AM to 6:00 PM
Saturday 8:00 AM to 3:00 PM.
We serve majorly Riverside, Norco, Mira Loma.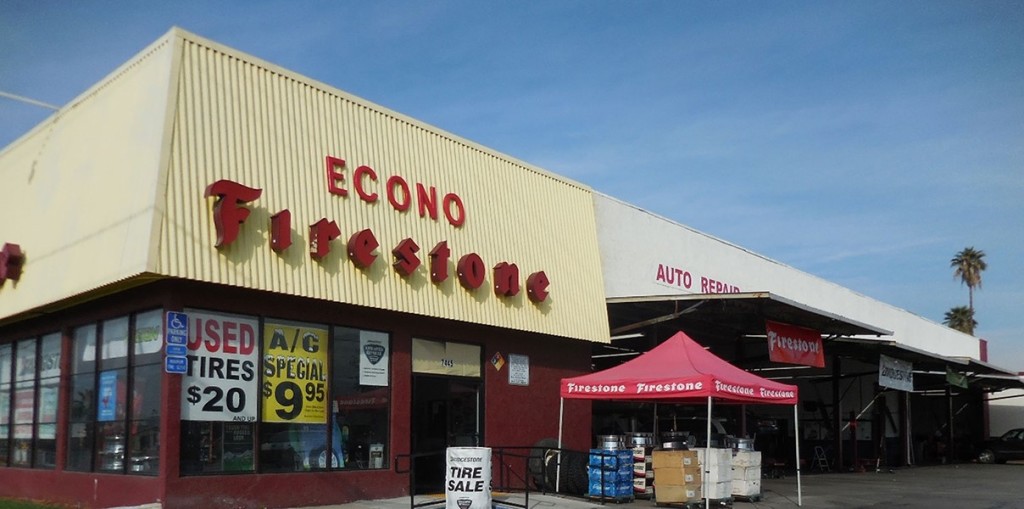 What services do you offer?
We are a full service Auto Repair facility. We are a Star certified smog shop.
How many transmissions have you repaired or replaced?
We service transmissions. Our shop replaces and repairs five transmissions a month.
Why should someone choose you over the competition?
Our technical mechanics have been here for many years and are well trained. Our staff is friendly and knowledge. We have fair prices and many repeat customers.
How do you advise customers to do when it comes to the question of repair, rebuild or replace?
Our sales staff answers all of the customer's questions and suggests the best plan to fit their budget. They let them know if it can be repaired or if it is too far gone and needs to be replaced.
How much do you charge (approximately) to have a transmission repaired? Replaced? How long does it typically take?
Transmission jobs run about $2500 to $4000 and take 2 to 3 days.
Quick summary of the process of getting a car repaired at your shop.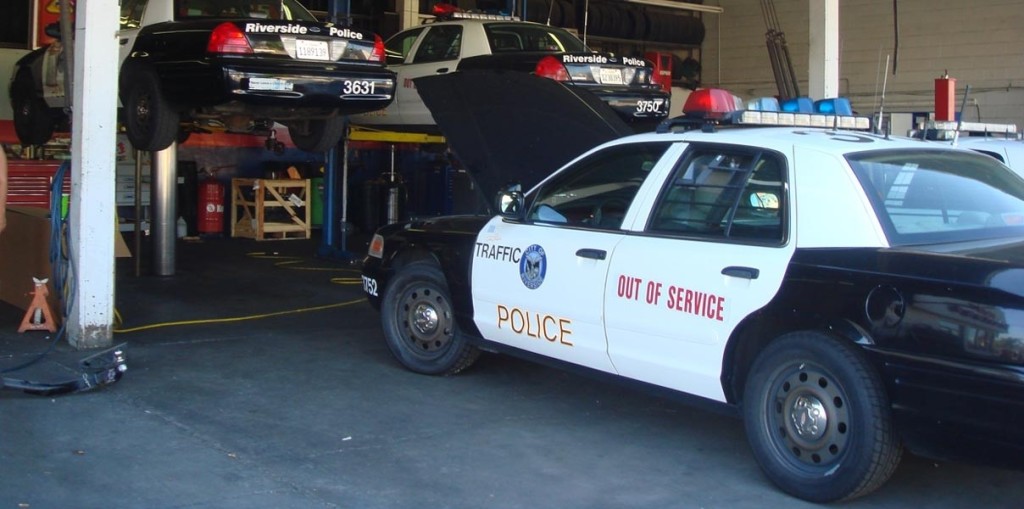 After a customer has been greeted a work order is written this will include all notes on what customer states is wrong with their vehicle. A tech will check and diagnosis if needed and advice salesman of what he finds. Salesman will then put an estimate together and talk with customer to explain any and all issues.
Do you offer warranties/guarantees on your work? If so, for how long/how many miles?
Our warranty for repair is 2 years or 24.000 miles at all Firestone stores in nation. We are an affiliated store. Tires are guaranteed by the manufactory, plus we sell a road hazard warranty for the tread life of the tire.
In your experience, what is the most common cause of transmission problems?
Common cause of transmission problem is not going by the manufacturer service recommendations.
Do you recommend flushing or changing the fluid? Why?
We recommend some flushing and changing fluid on transmissions depends on the make, model and mileage of vehicle.
What make and model do you see the most in your shop (and advise people to steer clear from)?
We see all domestics and imported brands. We tell our customers to steer clear from Jaguar.
What problem is most commonly assumed to be a transmission issue, when it actually isn't?
Customers sometimes assume they have a transmission problem but actually it is a low fluid.
What payment methods do you accept? Do you offer financing?
We accept cash, check, MC / Visa, AM Ex, Discover. We also have a Firestone credit card with our name on them.
Fair Replacement Transmission Cost by Vehicle
Find your transmission model in the table below for fair prices from reputable suppliers. Also fair labor cost for local installation at a local auto repair shop.


Get a free estimate on a remanufactured transmission by email.
Fair Remanufactured Transmission Price Ranges by Transmission Model Updated July 2018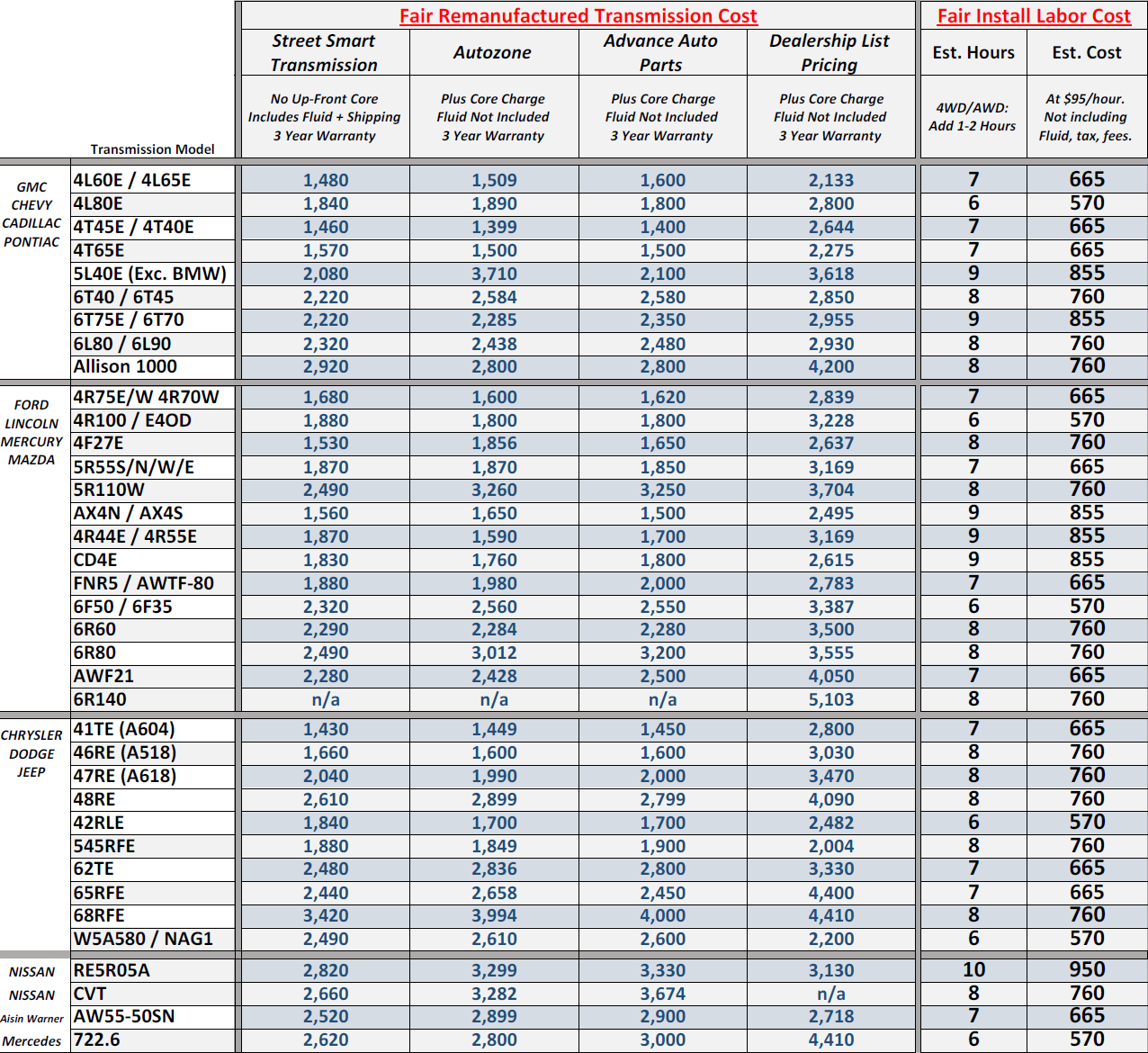 Download Replacement Transmission Cost Guide PDF
What is the best way for people to contact you for more information?
The best way to contact us is to call us directly by phone or through email and our website.