AAMCO Transmissions & Total Car Care
835 Roosevelt Ave,
Carteret, NJ 07008
Need a replacement transmission? Get an estimate for replacement transmissions and local installation. Look up your transmission model by vehicle make and model.
What Transmission Do I Have?

We serve all surrounding areas throughout Middlesex and Union Counties.
Website: www.aamcocarteret.com
Hours:
Monday-Friday: 8:00am – 5:30pm
Saturday: 8:00am – 12:00pm
Sunday: Closed
Please introduce yourself.
We are a locally owned family business operated by a father and son team dedicated to providing expert service at a fair price. We value the referral and repeat business we receive each day, and are proud of the work that we do.
How long have you been in business?
WE OFFER OVER 50 YEARS OF TRUST, QUALITY & VALUE
For more than 50 years, AAMCO has become one of the most trusted experts in the diagnosis, service and maintenance of transmissions. We've serviced 10's of thousands of transmission of practically every make and model.
Shop Photos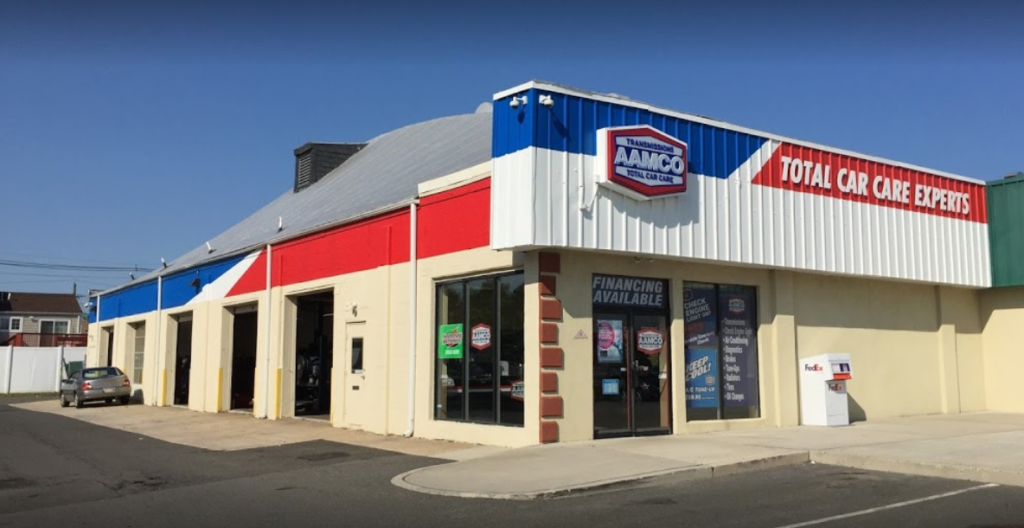 Local Map
What services do you offer?
FREE Multi-Point Inspection
Night-time Drop-off Available
Specialists in Automatic, Manual, Front Wheel Drive, Overdrive and 4×4's
We Honor Most Extended Warranties
Nationwide Coverage on All Transmission Services
Financing Arranged from Good Credit, to Bad Credit, to No Credit
Most General Repair Services Available
FREE Towing with Major Repair Service
Multi-Point Inspection and Computer Diagnostic Services
Why should someone choose you over the competition?
We are proud to be one of hundreds of AAMCO centers across North America that have serviced millions of vehicles for more than 50 years and earning AAMCO a reputation as experts in transmission repair as well as Total Car Care providers.
How do you advise customers when it comes to the question of repair, rebuild or replace?
Depending on the overall condition of the vehicle, there are often multiple ways to correct transmission related problems. Sometimes a simple external component has failed, at times the transmission cannot be repaired. In those cases, we consider the customer's plans for the vehicle, the age of the vehicle, and the condition of the other major components to make a valid and honest recommendation. Our FREE Transmission Multi-Point Inspection will help determine the best coarse of action in each case.
How much do you charge (approximately) to have a transmission repaired?
Transmission repairs can start at as little as $500, up through complete remanufactured units at a cost less than the dealer. Most vehicles we service don't required a new or rebuilt transmission, and are often corrected with a minor repair, adjustment, or re-programming of the vehicles computer.
Please give me a quick summary of the steps in the process of getting a car repaired at your shop.
We start with our FREE Multi-Point Inspection Service. Next, we verify the problem that the customer is experiencing. Then, we determine multiple ways of correcting the issue, and offer these options to our customer. Ultimately, the customer decides if or how he/she would like to proceed.
Do you offer warranties/guarantees on your work? If so, for how long/how many miles?
We offer multiple warranty options on transmissions:
3 year / Unlimited Mileage
3 Year / 100,000 Miles
3 Year / 50,000 Miles
2 Year / 24,000 Miles
1 Year / 12,000 Miles
In your experience, what is the most common cause of transmission problems?
In all of our years in the transmission business, there is no single most common cause of failure. Primarily, transmissions are mass produced products by vehicle manufacturers that have a given lifetime. That lifetime is influenced by many factors, none of which are more prevalent than others.
Do you recommend flushing or changing the fluid? Why?
Unless the fluid has previously been changed under strict manufacturers guidelines, we do not recommend changing the fluid unless the transmission has been thoroughly inspected by an experienced transmission specialist. Many times, changing transmission fluid will do more harm than good.
What make and model do you see the most in your shop?
All transmissions will fail at some point. It is easier to say which transmissions we see the least of, and that would be Toyota.
What problem is most commonly assumed to be a transmission issue, when it actually isn't?
Bucking at highway speeds.
What payment methods do you accept?
We accept all major credit cards, and have multiple financing options. We can finance anyone from good credit, to bad credit, to no credit at all.
What is the best way for people to contact you for more information?
Location/Mailing Address:
AAMCO Transmissions
835 Roosevelt Ave,
Carteret, NJ 07008
Need a replacement transmission? Get an estimate for replacement transmissions and local installation. Look up your transmission model by vehicle make and model.
What Transmission Do I Have?

Reviews
If you've had repairs done by this shop, please leave a review below!