Please introduce yourself.
Matthew Lasker – Service Manager at Briones Trans & Auto Repair in Bradenton, FL. I have been serving customers in need of repairs for 5 years since I graduated from UT Texas.
Need a replacement transmission? Quality transmission suppliers can be hard to find. Have your 17-digit vehicle VIN# ready. Free estimates sent via text and email.
How long have you been in business? How many transmissions (estimate) have you serviced?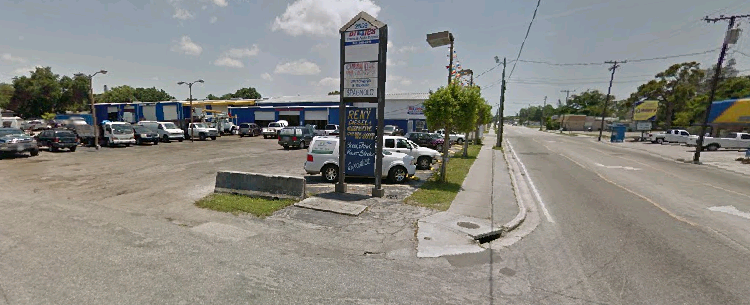 Briones has been in business since 2005. With an average of 20 transmissions serviced per month .. approximately 200 per year .. equaling well over 2,000 transmissions serviced since we opened our doors to the community.
What options do you offer (rebuild, repair, replace)?
We are a full service transmission repair facility that offers rebuilds done on site and of course install and repair of transmissions brought to us.
Do you advise customers to repair, rebuild or replace?
Taking into consideration, the financial shock that can accompany a transmission replacement, I am always working on the best approach for the customers' needs. Repairs are the best option, when it is as simple as just a repair. The majority of cases we diagnose have been ran past the point of a simple repair. Rebuilding the transmission allows us to pin point the damages and bring youth to the existing transmission allowing for years of trusted function. Replacing a transmission is what we see most, due to the low cost for some used transmissions. But, I will say that it is my least favored option as we do not know the condition of the internal components, leaving us unsure of how long the transmission will function properly.
How much does it cost to have a transmission repaired?
A transmission repair is designated as an external replacement of parts, which will require approximately 3 hours due to the need for removal of transmission for access to all sides of the unit. Replacement of the transmission is approximately 4 hours due to the need for additional time with the vehicle in order to make sure the unit is working properly. When a transmission rebuild is being completed, I expect the tech to take a minimum of 7 hours with an average of 8-10 hours including install and completion testing.
Quick summary of the steps involved at your shop?
A preliminary interview with the driver will allow us to pinpoint what noises or feelings have been experienced, leading us in the right direction. A diagnosis will generally be a day with the car, running it at different temps and speeds with diagnostic equipment telling us what the transmission is doing or not doing. We then will complete the repairs upon approval of the vehicle owner and release the vehicle upon payment and complete satisfaction.
Do you offer warranties/guarantees?
Yes, of course! With an install of a used transmission we offer a 6,000 miles/ 6 month warranty on the parts and labor. If it is a repair or rebuild that we diagnosed and completed the warranty will be for a full 12,000 miles/ 12 months.
What is the most common cause of transmission problems?
NOT REPLACING THE FLUIDS AND FILTER REGULARLY
Do you recommend flushing or changing the fluid?
Yes, that is a definite recommendation depending on the service recommendations of the manufacturer.  Filter and Fluid changes (Basic Service) should be completed every 30,000 miles and a flush every third Service (90,000 miles). The Fluid is a lubricant for gears, hydraulics, and more that heat up and cool down and move in every direction. Not having clean fresh fluid will definitely cause damages to internal components over time.
What make and model do you see most in your shop?
Nissan (Altima or Murano) transmissions are what we see the most, but it is not my opinion that it is the car manufacturer that causes this statistic. The cars are misunderstood in regards to what they are made for, not hot-rodding and off-roading, just reliability. Take care of the car, and the car will take care of you.
What problem is most commonly assumed to be a transmission issue, but actually isn't?
Bad Spark Plugs. The misfire will cause a jitter in the entire vehicle so it is hard to pinpoint the source for the driver. The misfire will be worse while accelerating and/or when at high speeds and these symptoms will seem as if the transmission is having issues running in certain gears.
What payment methods do you accept?
All forms of payment are accepted, as well as Auto Sales Warranty work payments and we offer no interest financing for the expensive projects.
What is the best way for people to contact you?
Come see me in person or visit our website at www.brionestrans.com.
Fair Replacement Transmission Cost by Vehicle
Use the Year / Make / Model lookup tool to determine what transmission your vehicle has.



Find your transmission model in the table below for fair prices from reputable suppliers. Also fair labor cost for local installation at a local auto repair shop.


Get a free estimate on a remanufactured transmission by email.
Fair Remanufactured Transmission Price Ranges by Transmission Model Updated July 2018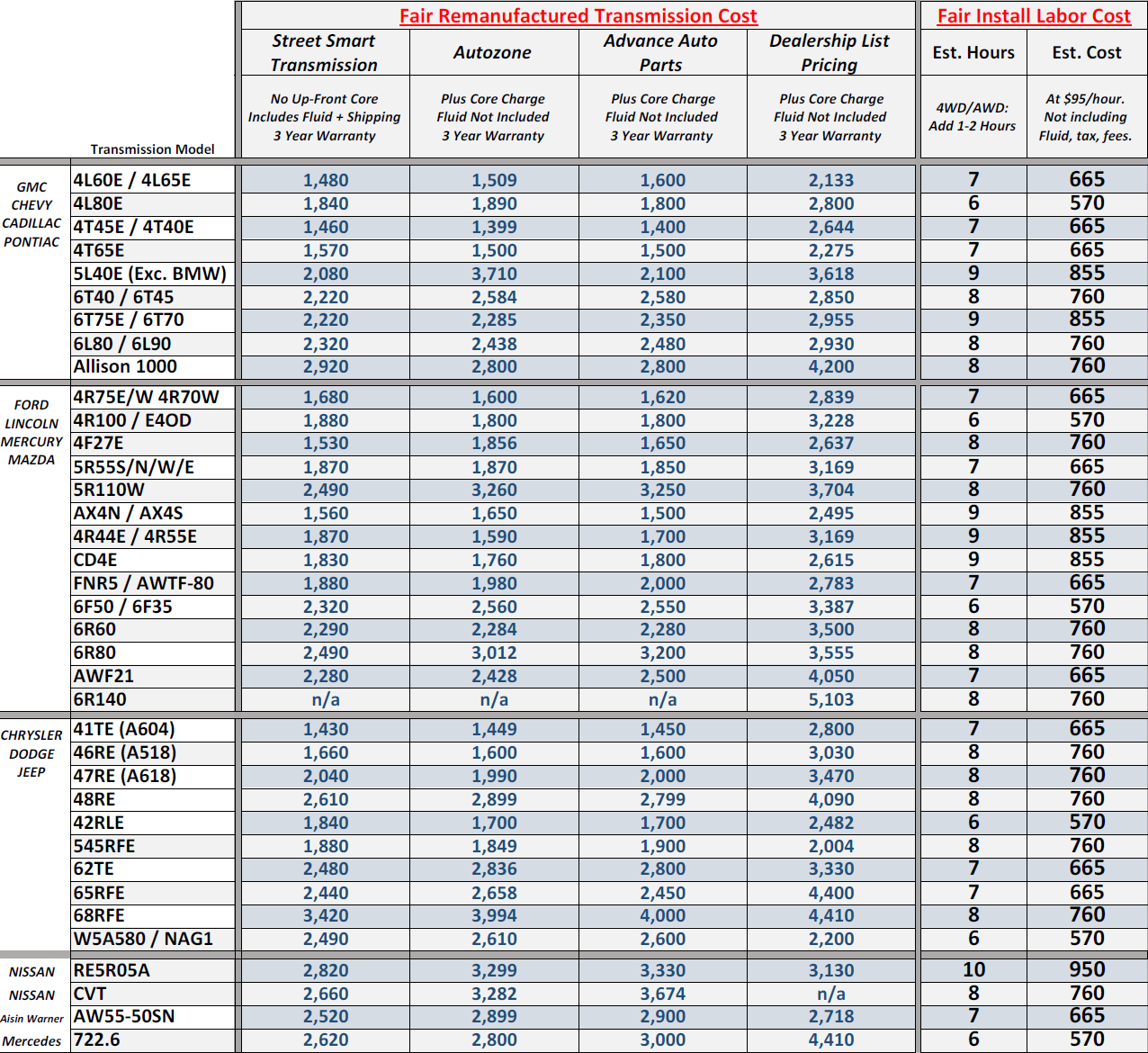 Download Replacement Transmission Cost Guide PDF
Had work done by Briones Transmission? Please leave a review below.