Why Certified Shops?
Transmission Repair Cost Guide – the most popular transmission repair and placement website – connects consumers with certified shops in their area.
We've done the research for you.
Our industry experts find and certify the best transmission shops across the US and Canada, ensuring the work they deliver is of the highest quality.
We maintain strict screening requirements.
With our extensive certification requirements, you can be sure that you're doing business with a shop that has a good reputation and offers a solid warranty. No ripoffs or scams.
We save you time and money.
Our service is 100% free to customers.
Be confident and truly satisfied the work will be done right, for a good price.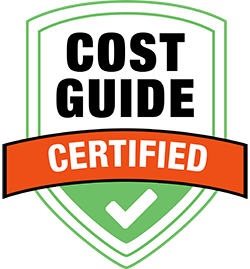 A good repair shop can be hard to find – especially on short notice. Find a shop near you that's trusted by our experts and recommended by your community.
Are you an honest transmission shop that does excellent work and provides customer-focused service? Over 2 million people visit the Transmission Repair Cost Guide every year looking for trusted shops like yours.
How it Works: Benefits for Consumers and Quality Shops
Step 1: Research
We contact shops across North America to discuss the Cost Guide Certification program.
Step 2: Certification
Our experts review and verify reputation, training, experience, pricing and warranty to determine if they meet the requirements
Step 3: Estimate
You quickly and easily fill out a form to tell us about your car and the problem it has to get a free estimate.
Step 4: Connect
We connect you with the Certified Shop in your area. You'll get a call shortly after submitting the estimate form.
Step 5: Repairs
After agreeing on a price and time, you bring the car in for repairs. Don't forget to let us know how it went!
Shop Certification Requirements
Been in business for 2 years or more.
Better Business Bureau "B" or higher rating.
Offer quality transmission replacement and charge fair labor prices based on book time (Mitchell, Alldata, Chilton, Motor, etc).
Minimum 12 month, 12,000 mile warranty.
In addition, here are some other ways we evaluate and screen shops before they receive the Cost Guide Certification:
Review Check – Before an application is approved, we check the reviews of the shop, the BBB rating, and it's owner. This means that shops with less-than-sparkling histories don't make it onto our site.
Mystery Shop – We make sure shops on our network, when asked, will install a transmission on behalf of a customer through mystery calling as a customer.
Monitoring Feedback – We ask customers to review their experience. We constantly monitor the performance of our shops to make sure they'll provide you with professional and courteous service. If a shop receives verified complaints that go unresolved, they are stripped of their certification and are no longer listed on our website.
* If there is a Cost Guide Certified shop in the area.
Ready to get started?
No problem is too big or too small for our network of Certified Shops. Click Here to sign up.