To get an estimate on a rebuilt W5A580, click Get a Free Estimate.
Need a replacement transmission? Get an estimate for replacement transmissions and local installation. Look up your transmission model by vehicle make and model.
What Transmission Do I Have?

Replacement W5A580 Transmission Prices:
| Transmission | Street Smart Transmission | Autozone | Advance Auto Parts | Dealer Retail |
| --- | --- | --- | --- | --- |
| W5A580 / NAG1 | 2487 | 4510 | 3098 | n/a |
W5A580 (5G-TRONIC) Vehicle Compatibility – Makes & Models
2002-2012 Jeep Grand Cherokee
2006-2010 Jeep Commander
2011-2012 Dodge Durango (V6)
2009-2014 Dodge Challenger
2004-2008 Chrysler Crossfire,
2004-2010 Chrysler 300
2005-2014 Chrysler 300
2005-2008 Dodge Magnum
2006-2014 Dodge Charger
2007-2011 Dodge Nitro
2012-Present Jeep Wrangler
The Chrysler W5A580/ NAG1 transmission first saw production in 2002 models. The transmission fits both two-and all-wheel-drive vehicles.
W5A580 Diagnostic Trouble Codes | DTC
| Trouble Code | Description |
| --- | --- |
| P0700 | Transmission Control System (MIL Request) |
| P0711 | Transmission Fluid Temperature Sensor Circuit Range/Performance |
| P0712 | Transmission Fluid Temperature Sensor Circuit Low Input |
| P0713 | Transmission Fluid Temperature Sensor Circuit High Input |
| P0720 | Output Speed Sensor Circuit |
| P0730 | Incorrect Gear Ratio |
| P0731 | Gear 1 Incorrect Ratio |
| P0732 | Gear 2 Incorrect Ratio |
| P0733 | Gear 3 Incorrect Ratio |
| P0734 | Gear 4 Incorrect Ratio |
| P0735 | Gear 5 Incorrect Ratio |
| P0740 | Torque Converter Clutch Circuit Malfunction |
| P0743 | Torque Converter Clutch Circuit Electrical |
| P0748 | Pressure Control Solenoid 'A' Electrical |
| P0751 | Shift Solenoid 'A' Performance or Stuck Off |
| P0765 | Shift Solenoid 'D' |
| P0783 | 3-4 Shift |
| P0880 | TCM Power Input Signal |
| P0881 | TCM Power Input Signal Range/Performance |
| P0882 | TCM Power Input Signal Low |
| P0884 | TCM Power Input Signal Intermittent |
W5A580 Recalls
Recall H37 – Gearshift Cable – W5A580 / NAG1 transmission
2006 – 2009 Dodge Charger Police Package AHB
2006 – 2009 Dodge Magnum Police Package AHB
Summary – 20,100 of the above vehicles may have their gearshift cable become disengaged from the column shifter.
Consequence – If this happens, the transmission gear shift position display could read a different gear then the transmission is actually in. This could cause the vehicle to inadvertently move and cause a crash or serious injury.
Remedy – Chrysler recommended securing the gear shift cable to the steering column mounting bracket with a plastic tie strap. Many of the vehicles covered in this recall were repaired by the factory/dealers, and it's likely that the different police agencies may have performed their own repairs to correct this issue. Concerned owners can contact Chrysler customer service at 1-800-853-1403. You can also contact the National Highway Traffic Safety Administration at 1-888-327-4236
Recall 08V458000 – Park/neutral start switch
2008 – 2009 Dodge Challenger SRT
2009 Dodge Challenger SE
2009 Dodge Challenger R/T
Summary – Chrysler recalled 6,636 copies of the Dodge Challenger fitted with the W5A580 transmission and the Keyless Go pushbutton ignition option. It seems the stop/start button can be pressed and held, turning off the engine even when the shifter is not in the Park position.
Consequence – If the transmission is not in Park when the engine is turned off, the car could unexpectedly roll away, causing serious injury and property damage.
Remedy – Dodge dealers were instructed to reprogram the wireless ignition node module so that the engine can only be turned off when the transmission and gearshift are in the Park position. This we called was issued in September 2008. Concerned owners can contact Chrysler customer service at 1-800-853-1403. Refer to recall H29. You can also contact the National Highway Traffic Safety Administration at 1-888-327-4236
W5A580 Technical Service Bulletins | TSBs
TSB 21-003-06 – Transmission shudder or buzzing noise due to water contamination
2005 – 2006 Chrysler 300
2005 – 2006 Dodge Magnum
2005 – 2006 Dodge Charger
-Note: This W5A580 transmission TSB is intended to supersede TSB 21-011-05 which included the 2005 Jeep Grand Cherokee
Problem – Owners may experience a shudder vibration and/or a high-frequency buzzing sound. This W5A580/NAG1 transmission problem may be most noticeable during light acceleration where partial application of the torque converter clutch happens in 3rd, 4th, or 5th gears. The reason this happens is because water has gotten past the transmission oil fill tube/dipstick seal. Contaminated transmission fluid can cause the TCC to stick and/or slip.
Solution – If the contaminated transmission fluid has not caused a lot of damage, the transmission and torque converter may be able to be flushed to cure the problem. However, if the contamination is severe, the torque converter will need to be replaced, and the transmission inspected for signs of other damage. The transmission fill tube seal will also need to be upgraded.
Common Problems with the W5A580
Slipping, Erratic Shifting, Harsh Forward or Reverse Gear Engagement: Some of the most common W5A580 transmission problems are slipping between gears, erratic up or down shifts, or a hard slam when the W5A580 transmission engages Drive or Reverse. There are a number of design flaws in this transmission, and any one of them could be causing these symptoms.
Another common problem is overheating. This happens when the moving parts inside the transmission are creating more friction heat than the ATF can remove. The most common cause of this condition is towing heavy loads, driving in stop/go traffic, or on mountain roads where the transmission has to shift a lot.
Updates to Remanufactured W5A580 Transmissions
Remanufactured pump, with new line bore bushings to eliminate leaks and provide superior flow and durability.
Remanufactured valve body, with complete system correction and recalibration kit, improves pressure control and shift quality.
Remanufactured and improved torque converter tested for leaks, concentricity, and balance. Upgrades exceed OE requirements and eliminate the possibilities of front seal leaks, premature bushing wear, and vibration.
All new, bushings installed in key locations to improve internal fluid flow control and fluid pressures.
Complete system correction and recalibration kit installed to address several OE flaws. Modifications include updates to servos, the PR system, and valve body accumulators.
Heavy-duty recalibration kit installed to reduce slippage and increase durability.
Complete road simulation using a dynamometer testing program called C.A.R.S. (Computer Aided Road Simulation). Every transmission is cold and hot tested before shipment.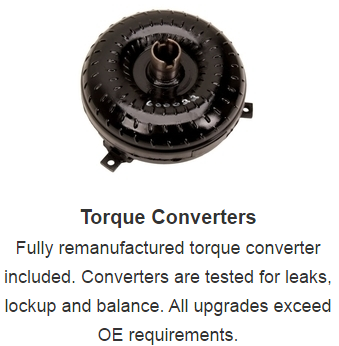 How to Buy a Remanufactured W5A580 Transmission
1) Buying Locally
When you go to your local repair shop, they'll order a remanufactured W5A580 transmission, then mark up the price. So at the end of the day, you'll be paying 15% to 30% more than the actual cost of the unit.
2) Buying Online
Buying a reman transmission through a company like Street Smart Transmission will save you a considerable amount of money because you pay the wholesale price (avoiding a repair shop's 15% to 30% markup), they'll ship the unit to the shop of your choice free of charge, and returning your old transmission is free as well. Then all you have to pay for is the labor to install the unit (usually $400 to $800), and you're on your way.
How Does it Work?
To order a remanufactured W5A580 transmission from a company like Street Smart Transmission, all you need to do is provide your vehicle's VIN number, the mileage, and the address of the repair shop that you want it shipped to.
Financing
Replacing a transmission can be expensive, so Street Smart Transmission offers financing through PayPal Credit. Depending on your credit, you'll be able to order a new transmission, get back on the road, then pay for it over time. You may have to pay labor charges for the installation up front, but you won't have to shell out for the transmission all at once.
Shipping Charge/Location
When it comes to shipping, a transmission is quite heavy. So you're going to pay quite a bit of money, unless the reman transmission company offers free shipping. Street Smart offers free shipping to a business address, which is usually the repair shop that you've chosen to install the unit.
What is a Core Charge (Core Deposit)?
Every remanufactured transmission originally came from somebody else's car. Therefore, they need your broken transmission in order to refurbish it for another customer.
Your old/damaged transmission is called a "core", and many companies will collect a core charge (usually $500 to $1500), which will be refunded once they receive your old transmission. (Street Smart does not charge an up-front core charge.) Make sure to ask any company for their core return policy, so you'll know what to expect.

Our Recommendation
We recommend Street Smart Transmission. We have found Street Smart to be of the highest quality. Their transmissions carry a 3 year / unlimited miles warranty that covers both parts and labor. Their warranty is nationwide and attached to the VIN so it is transferable with ownership if you decide to sell the vehicle. It also covers both parts and labor for the installation of the replacement transmission.
Watch the Remanufacturing Process
How it Works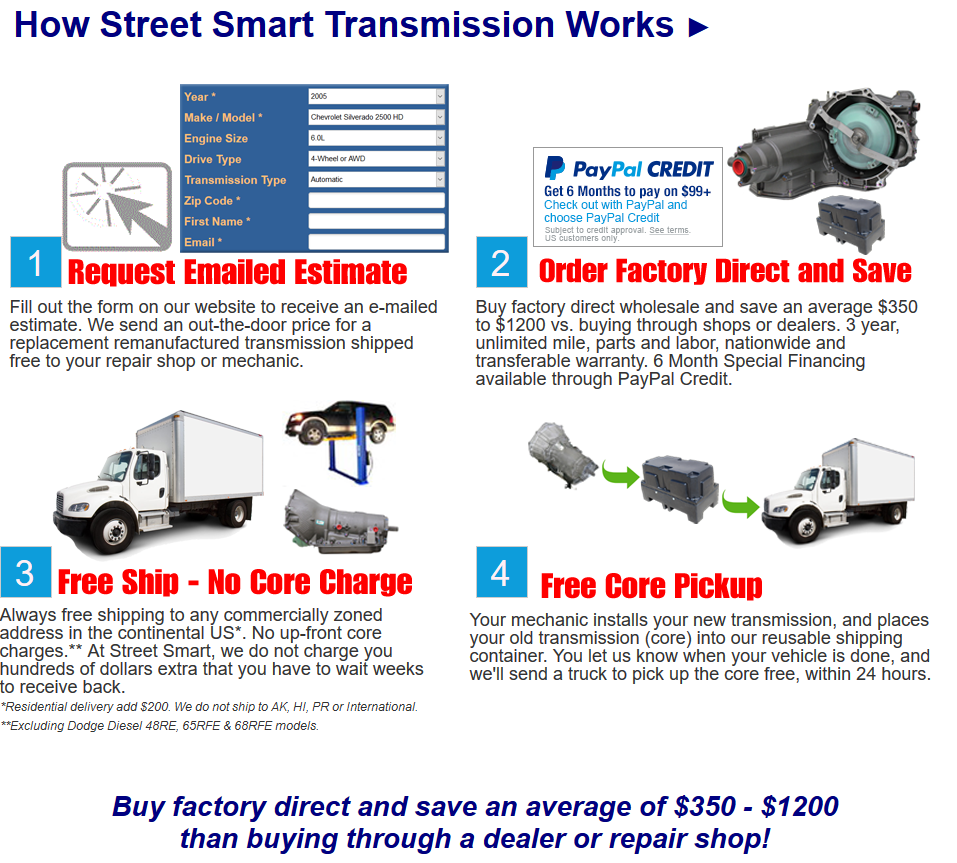 Finding a Shop to Install the Remanufactured Transmission
If your transmission has failed, you're going to need a skilled mechanic to replace it. You can find a shop to install your transmission using our shop locator map.
For warranty purposes, you need to find a reliable repair shop. That way, if the replacement transmission doesn't work properly, the warranty will cover it.
Ready to Replace Your W5A580 Transmission?
Click Get a Free Estimate for an unbeatable price on a replacement remanufactured transmission.