Transmatic Transmissions & Total Car Care
1990 Silas Creek Parkway
Winston Salem, NC 27103
(336) 777-3777
Contact: John Panoo
Hours:
Monday: 8:00 AM – 5:00 PM
Tuesday: 8:00 AM – 5:00 PM
Wednesday: 8:00 AM – 5:00 PM
Thursday: 8:00 AM – 5:00 PM
Friday: 8:00 AM – 5:00 PM
Saturday: Closed
Sunday: Closed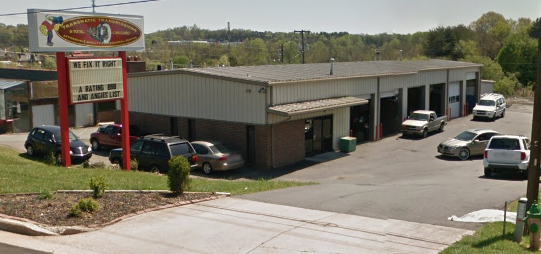 Please introduce yourself.
John Panoo – Service Manager at Transmatic Transmissions & Total Car Care in Winston Salem, North Carolina has been serving customers for over 15 years. Transmatic Transmissions is a proud member of Angie's List and the BBB with an "A" rating.
How long have you been in business?
Mr. Monroe, the owner of Transmatic Transmissions & Total Car Care has been in the transmission industry for over 35 years. He has rebuilt, serviced or replaced an average of 130 transmissions per month during those 35 years. We have one of the best crews with over 25 years experience in rebuilding transmissions.
What services do you offer?
Transmatic Transmissions & Total Car Care is a full-service auto repair and preventive maintenance. We are automatic and manual transmission experts. We provide transmission service and maintenance as well as transmission flush and filter service. We are qualified to repair and service all domestic and Import cars, trucks, and SUV's.
Why should someone choose you over the competition?
We believe that getting the best value for your dollar is the most important part of any repair. We use only the highest quality parts available. We honor all extended warranties.
How do you advise customers when it comes to the question of repair, rebuild or replace?
Making the decision to repair, rebuild or replace depends on the age of the vehicle and the damage done to the transmission. We discuss the options with the customer, helping them to make the decision which is best for them.
How much do you charge (approximately) to have a transmission repaired?
The costs of a repair is based on the vehicle's age and model. The costs can vary between $1400 to $3,000 depending on which parts need replaced. We do offer to replace the unit with a used one, but this could become costly for the customer due to the uncertainty of the used unit having the same problems as the one being replaced.
Please give me a quick summary of the steps in the process of getting a car repaired at your shop.
The customer would meet with the Service Manager and check in the vehicle. The vehicle is put thru a 21-point inspection and scan, then road tested. Next is the transmission removal, rebuild, and reinstall. Once filled with fluid, it is then road tested again.
Do you offer warranties/guarantees on your work?
We offer the standard 12 month/12,000 mile warranty on parts and labor. We also offer a 2 year/24,000 and a 3 year/36,000 mile warranty for an additional cost.
In your experience, what is the most common cause of transmission problems?
Not keeping fluid levels up, overheating, and high mileage are most of the contributing factors for transmission failure.
Do you recommend flushing or changing the fluid?
Most manufactures request that flushing be done every 30,000 miles to ensure the proper lubrication of all the inner components, we agree with this.
What make and model do you see the most in your shop?
We don't see a lot of one certain make or model, we see vehicles that are of high miles which have not had the proper maintenance. Part of our maintenance plans for customers helps them to remember to take care of their vehicle.
What problem is most commonly assumed to be a transmission issue, when it actually isn't?
Problems with the engine such as misfire or whining noise. These problems will cause a customer to think that their having transmission problems.
What payment methods do you accept?
We accept most Debit/Credit cards (except for American Express), cash, cashier's checks, and money orders. No personal checks. We have multiple finance companies available to help with financing repairs.
What is the best way for people to contact you?
Visit our website at www.autorepairwinstonsalem.com or give us a call at (336) 355-0059. Our phones are also answered after hours and on weekends.
Reviews
If you've had repairs done by this shop, please leave a review below!