In the mid-70's, the Ford Fiesta was designed to offer people a practical transportation solution, for very little money. Americans didn't much care for subcompact cars at the time, so the little Ford went away after the 1980 model year. It remained a strong seller in international markets, but the Fiesta wouldn't return to North America until 2011 (the car you're thinking of was called the Ford Festiva).
Need a replacement transmission? Get an estimate for replacement transmissions and local installation. Look up your transmission model by vehicle make and model.
What Transmission Do I Have?
When the 6th generation Fiesta finally debuted in early 2009, it brought a whole new standard of quality and equipment to the subcompact segment. Buyers could now get high-end features like voice-activated infotainment, and leather upholstery. A six-speed PowerShift dual-clutch transmission was also available, making the Fiesta the first affordable subcompact to combine the quick-shifting capabilities of a manual transmission, with the excellent fuel economy of an automatic.
Does something seem wrong with your Fiesta? Let's look at some of the most common Ford Fiesta transmission problems, and see what you can do to get your car back on the road.
Ford Fiesta Recalls
No transmission-related recalls
Ford Fiesta Technical Service Bulletins (TSB)
2011-2014Fiesta – TSB 15-0090-15-0043 / 10058318
Problem:
According to Ford, certain 2011-2014 Fiesta's that are equipped with the Ford DPS6 automatic transmission, may experience excessive transmission clutch shudder during light acceleration, and/or fluid leaks from the clutch housing. This is due to fluid contamination of the clutch, caused by failed input shaft seals.
Solution:
Depending on the severity of the damage, the clutch may be able to be cleaned, and both input shaft seals replaced. However, the clutch itself may need to be replaced as well.
2011-2015 Fiesta – TSB 44852 / 10057815
Problem:
If the above repair to fix clutch contamination isn't done correctly, the new input shaft seals could swell and rupture, causing the same problem to occur again.
Solution:
When cleaning the bell housing and clutch assembly, allow ample time for the parts to dry before installing the new input shaft seals. Otherwise, the cleaning solvent can cause the new seals to swell and rupture.
2014 Fiesta – TSB 14-0063-14-0135 / 10056929
Problem:
Certain examples of the 2014 Ford Fiesta that are equipped with the 1.6L Ti-VCT engine, may display an MIL warning lamp, and store one or more of the following diagnostic trouble codes: P2610, P286F, or P06B8.
Solution:
The Powertrain Control Module (PCM) and Transmission Control Module (TCM) will need to be updated with the latest transmission control software, using IDS release 89.02 or higher.
Fair Replacement Transmission Cost by Vehicle
Find your transmission model in the table below for fair prices from reputable suppliers. Also fair labor cost for local installation at a local auto repair shop.


Fair Remanufactured Transmission Price Ranges by Transmission Model Updated for 2019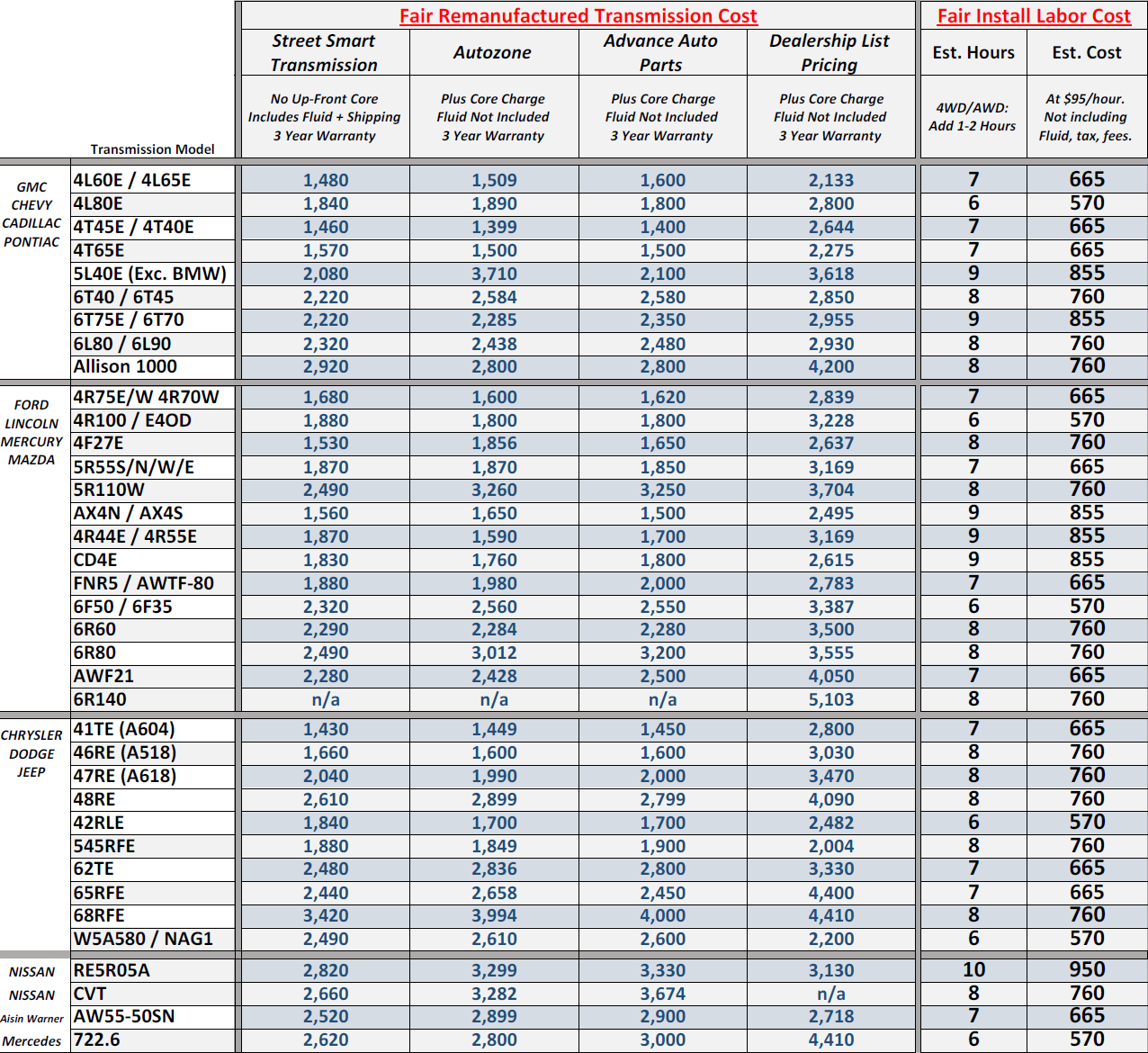 Download Replacement Transmission Cost Guide PDF
How to Diagnose & Fix
Check the OBD Codes
Check the fluid level
Test transmission pressure
Drop the transmission pan
Repair, replace or rebuild
What to Read Next
Related Forum Discussions
Over to You
[poll id="12″] [poll id="13″]
What Problem Does Your Fiesta Have?
Let us know the year, mileage and problem you're having as well as any trouble (OBD) codes you've found. If you've been given a quote or paid for a repair, we'd like to hear about that too!