Eagle Transmission
4542 FM 2351 Rd
STE A
Friendswood, Texas 77546
United States
281-241-1357
Need a replacement transmission? Quality transmission suppliers can be hard to find. Have your 17-digit vehicle VIN# ready. Free estimates sent via text and email.
Website: southhoustontransmissionshop.com
Hours:
Monday to Friday: 8:00AM – 6:00PM
Saturday: Closed
Sunday: Closed
I choose not to be open Saturday in order to attract and retain the best employees. We serve all of Galveston and Galveston County, Pearland, Friendswood, Clear Lake, Webster, Dickinson, Alvin, Manvel, Rosharon, Texas City, League City, Nassau Bay, Tiki Island, Seabrook, Deer Park, Pasadena, Baytown, Sante Fe, San Leon, Hitchcock and the general Greater Houston area. We keep our services open to about a 45-50 mile radius and often bring cars in from Conroe, Spring, Humble, Lake Jackson etc. We believe, and have proven, people will travel for quality, ethical service.
Location
Shop Photo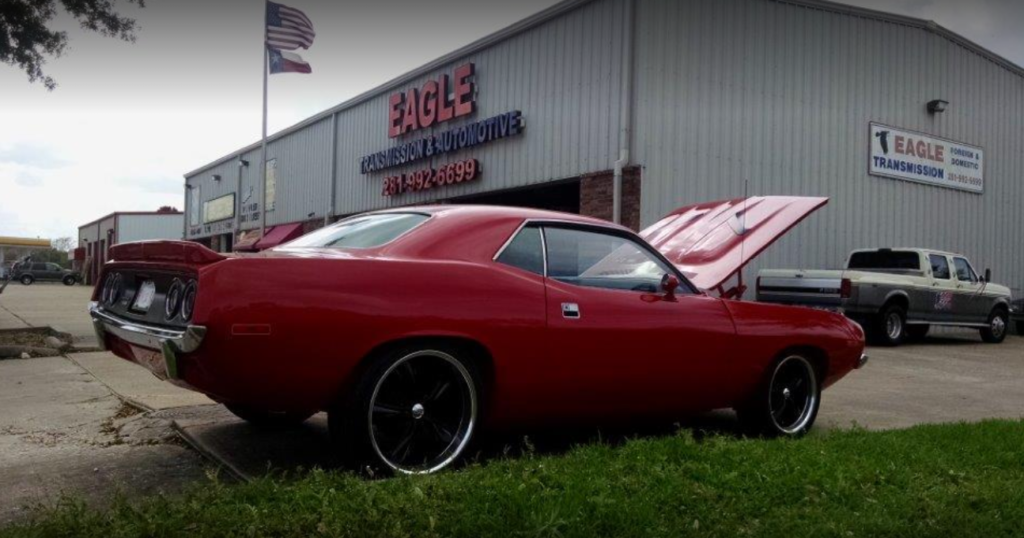 Please introduce yourself.
Jeffrey Klima, owner of Eagle Transmission in Friendswood, Texas. Eagle Transmission is a franchise with 17 locations in Dallas, 4 in Austin and 2 in Houston. I am the area developer for Houston and will be looking at opening additional locations. We are members of ATRA and ATSG. I am also personally heavily involved in Space Center Rotary, Houston Livestock Show and Rodeo, Friendswood Chamber of Commerce and Nassau Bay Lion's Club. I am passionate about helping people and giving back to the community.
I bought the shop in December 2013 and have grown by more than 30% each year. I possess 25 years of management experience across a number of industries and bring a very strong focus on customer service and ethics. I have spent the past 3 years recruiting and developing the staff required to deliver the ethics and VIP level of service I require.
How long have you been in business?
The shop has been in place for about 22 years and I bought it in December 2013 so I've personally been in business for about 3 1/2 years. We see about 70 cars per month but about 30% of them either have a minor transmission problem or it's not a transmission problem at all. So, we average about 45 rebuilds per month and another 15-20 minor repairs (we don't do patch jobs but we also don't try to sell a whole transmission when it's clear the solenoid, shift cable etc. is the only problem).
What services do you offer?
We specialize in Automatic and Manual Transmissions, Clutches, Differentials and Transfer Cases. We do not do what I call "Stand Alone" general auto repairs such as brakes, oil changes, tune-ups etc. However, if we're doing your transmission and we have the front end of your vehicle dismantled as part of the transmission repair and we see your rotors are warped and need turned or replaced, we will let you know. In our view, it wouldn't be right not to make you aware of it since we're already there and can do it for minimal cost. Plus, we'd hate to have you pick your car up and then have to take it down the street to sit and wait an hour or more for something that we could do with little to no additional labor.
Why should someone choose you over the competition?
We do things very differently. We do NOT do RDI's (Remove, Disassemble and Inspect). Most shops use RDI's as a standard part of their process and the primary reason for it is to trap the customer into having no choice but to repair the vehicle. We diagnose the vehicle at no charge and then, if we determine it is a transmission problem, we provide you with a range and we NEVER exceed it. Also, we turn away more than 20% of the cars we get in because they don't have transmission problems. It is a point of great pride to us!
How do you advise customers when it comes to the question of repair, rebuild or replace?
It depends on the customers needs and the condition of the car. If the car is falling apart and needs a lot of other repairs, we'll let them know that and even recommend not doing the work at all (unless we know they're restoring the vehicle or it has sentimental value etc.). We always get to know the customer and understand how long they've owned the vehicle, how long they plan on keeping it and what their objective is. We can then better help them make a decision that is best for them.
We also look at the specifics of the car as some transmissions, such as CVT's, make much more sense to replace them. We don't want customers having the same issue….EVER…if possible.
How much do you charge (approximately) to have a transmission repaired?
Repairs range anywhere from $20-$1000. Our average minor repair is $379. Our average rebuild is between $2200 and $3300 depending on the vehicle. Our rebuilds include all possible upgrades to address known failure items or weak points in the transmission. Our goal with every rebuild is to make it as good, if not better, than new.
Please give me a quick summary of the steps in the process of getting a car repaired at your shop.
We first interview the owner through a series of 3-5 questions to understand what the car is doing, when it is doing it and how often it occurs. We also seek to understand how long they've owned the car and what their long term plans are for it. We then check-in the vehicle, give the customer a ride home/work if needed. We diagnose the vehicle to determine what the problem is and whether or not it is a transmission issue. We normally spend 45-60 minutes total with each car and typically have a full assessment for them in about 1 day or less. If it is not a transmission issue, we let them know what we found, how it relates to feeling like a transmission issue and then refer them to a general auto shop they can trust if they don't already have one.
If it is a transmission issue, we tell them what we found, why it is a transmission issue and then we give them a price range. We tell them it won't be any less than $X and no more than $Y and it all depends on what parts it needs once we get it opened. Once we get it opened, we still walk them through what we found. We keep the customers updated throughout the entire process with text messages.
The repair process takes 2-4 days on average.
Do you offer warranties/guarantees on your work? If so, for how long/how many miles?
We typically give customers two options. The first is a 12 month 12,000 mile warranty and the second option is 3 years 36,000 miles. The 3 year 36,000 miles is our standard warranty. Both warranties cover ALL parts inside the transmission, not just the parts we changed and we stand behind our warranties 100%.
In your experience, what is the most common cause of transmission problems?
FEAR. We see a decent number of vehicles that need a rebuild because the customer was too afraid of what it "might" be or of not finding someone they could trust so they let a general auto repair issue turn into a transmission rebuild.
HEAT. Heat is the biggest enemy of transmissions, especially in Houston. Trucks are often the biggest contributors because people use them to haul, tow, offroad but don't take proper care of the transmission or ensure it is getting proper cooling.
Radiator failures that pollute the transmission.
Do you recommend flushing or changing the fluid? Why?
Of course, proper maintenance of your transmission is highly recommended. Fluid should be changed/flushed every 2-3 years or 30,000-40,000 miles depending on the type of vehicle. However, the reality is most people don't know this or they forget about it.
Generally speaking we don't recommend flushes because most people don't maintain their transmissions like they do their engine so by the time they do bring it in, there is too much wear or degradation making a flush more risky. First and foremost, we always recommend FIRST diagnosing the vehicle to make sure it is even a good idea to do either to avoid making the problem worse.
What make and model do you see the most in your shop?
We see a decent number of Nissan's for 3 different reasons.
1.) CVT's that are prone to failure which is why Nissan doubled the warranties on them. We highly recommend NOT owning a vehicle with a CVT, especially a Nissan. Models include 2004-2010 Rogue, Cube and Altima primarily
2.) Electrical issues – we see a lot of network codes and other electrical issues that either cause the transmission to break down or make it feel like it has a transmission issue.
3.) Radiators cross pollute the transmission on a much higher percentage of Nissan's. Primarily 2004-2010 trucks and SUV's
What problem is most commonly assumed to be a transmission issue, when it actually isn't?
Clogged catalytic converters
Tune-ups – primarily on Ford F150 trucks (2006-2011)
Electrical issues on Dodge trucks and SUV's
Others include throttle position sensors, MAP sensors and speed sensors
What payment methods do you accept?
We accept cash, credit, debit and some checks. We offer 5 different financing options that include perfect credit with 0% for 6 and 12 months down to bad credit in the 400 range.
We always tell people to first focus on finding out if you even have a transmission problem. If you call and focus on how much to rebuild your transmission and financing to pay for it, you've just told the salesman that you're already convinced you need a transmission making it easier for him to sell you one if you need it or not.
What is the best way for people to contact you for more information?
281-992-6699 and speak to Ken Smith, my General Manager.
Our website has a lot of good info and I keep adding more in an attempt to educate people and help them avoid getting taken advantage of. www.southhoustontransmissionshop.com
Facebook – Eagle Transmission Houston
Fair Replacement Transmission Cost by Vehicle
Use the Year / Make / Model lookup tool to determine what transmission your vehicle has.



Find your transmission model in the table below for fair prices from reputable suppliers. Also fair labor cost for local installation at a local auto repair shop.


Get a free estimate on a remanufactured transmission by email.
Fair Remanufactured Transmission Price Ranges by Transmission Model Updated May 1, 2018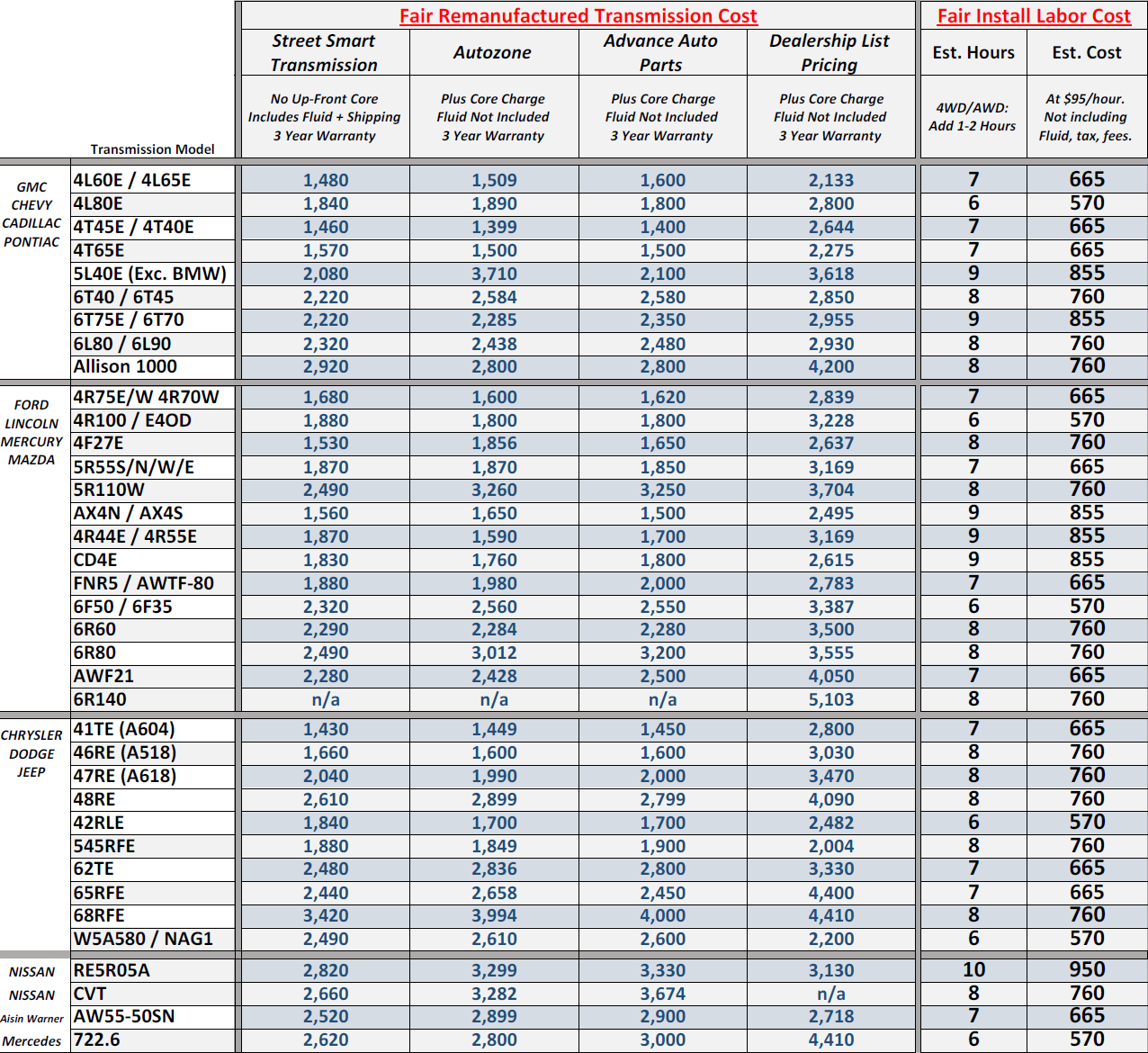 Download Replacement Transmission Cost Guide PDF
Reviews
If you've had repairs done by this shop, please leave a review below!