Aamco of Knoxville
8844 Kingston Pike
Knoxville, TN 37923
United States
865-694-8501
Need a replacement transmission? Quality transmission suppliers can be hard to find. Have your 17-digit vehicle VIN# ready. Free estimates sent via text and email.
Contact: Daniel (Shop Manager)
We are located between Gallaher View and Cedar Bluff Road. We are open 8-5 M-F and service the greater Knoxville Area, including Maryville, Alcoa Oak Ridge and Sevierville.
Website: www.aamcotransmissionsknoxville-kingstonpike.com
Hours:
Monday to Friday: 8:00AM – 6:00PM
Saturday: Closed
Sunday: Closed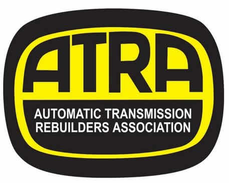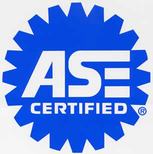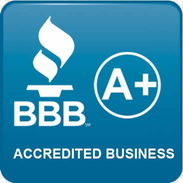 Location
Please introduce yourself.
Aamco Of Knoxville has been in business since the 1990's. Our current manager has been here since 2005. In addition to being a member of over 700 Aamco facilities nationwide, we are members of ATRA, BBB, Angie's List and are certified by ASE. We have been recognized by BBB as having complaint free years 2015 and 2016 and being a Super Service Award winner from Angie's List for 2015 and 2016
How many transmissions have you serviced?
We average 5 transmissions per week so that we perform over 250 per year.
What services do you offer?
We are a full service transmission shop offering custom rebuilds on site along with remanufactured transmissions. We will also rebuild transmissions brought to us for a bench build.
We also offer engine replacement tune-ups and repair, brake repair, steering and suspension repair, Air Conditioning and Heating repair , transfer case, differential and drive shaft repair and replacement along with other minor repairs, We do not provide tires, alignment , muffler or body work.
Why should someone choose you over the competition?
Our record speaks for itself. We treat our customers fairly and with respect as evidenced by our reviews , our complaint free years with BBB and our Super Service awards. We help our customers optimize the investment in their vehicle by providing a high quality repair that lasts and backing it with a nationwide warranty. This is why we have a strong component of repeat customers as our customers trust us because we do it right.
How do you advise customers when it comes to the question of repair, rebuild or replace?
There are a lot of variables that are involved in this decision based on the age and condition of the vehicle, how it is used, how long the customer plans to keep the vehicle and what the customer is willing to spend. Of course we will always focus on an external repair if that is the root of the problem. If the problem is internal to the transmission, we will highlight the values of a custom rebuild as it is usually cheaper since we only replace the parts that need to be replaced,
However, we sometimes see catastrophic damage once we open the transmission and the remanufactured option is best to keep the cost down. Our overriding focus is to explain the options to the customer and provide them the best value based on their needs.
How much do you charge (approximately) to have a transmission repaired?
It varies as it the problem can run from a Torque Converter, or a Valve body all the way to a catastrophic failure. Generally, our range is $1400- $2500 for a rebuild, although certain foreign vehicles are more expensive. A typical full rebuild will take 2-3 days.
Please give me a quick summary of the steps in the process of getting a car repaired at your shop.
We offer a free multipoint inspection where we inspect the mechanical components of the vehicle, scan the vehicle for any repair codes that may exist and if possible, perform a road test to validate the problem. At this point we are able to quote the customer an estimate for the repair . If the customer agrees to the estimate, we will repair the vehicle, inspect the repair and deliver the vehicle to the customer. if the customer declines the repair, there is no charge. In order to minimize disruption to the customer, we do offer free loaner cars for accepted transmission repairs.
Do you offer warranties/guarantees on your work? If so, for how long/how many miles?
We offer nationwide warranties. Our warranties start at 12 month, 12000 miles and will go to 36 months, 50,000 miles
In your experience, what is the most common cause of transmission problems?
Low Transmission fluid conditions or contaminated fluid that cause a transmission to overheat along with general wear and tear. We also see problems where the customer brings the vehicle to an unqualified repair shop or tries to fix it themselves and the problems are made worse
Do you recommend flushing or changing the fluid? Why?
Yes, although this is not a fix for a damaged transmission.
What make and model do you see the most in your shop?
We see a variety of vehicles. Our advice to our customers is to be aware of the cost to fix certain foreign vehicles due to the high parts expense.
What problem is most commonly assumed to be a transmission issue, when it actually isn't?
We see many engine performance issues that result in bucking or hesitation that the customer will think is a transmission problem. Generally, 70% of the problems that customers think are transmission problems are something not related to an internal transmission problem
What payment methods do you accept?
We accept all major credit cards and offer various types of financing based on what the customer qualifies for. We do offer a 6 or 12 month same as cash program for eligible customers.
What is the best way for people to contact you for more information?
Please call the shop at (865) 999-0790 and ask for Daniel, our shop manager. You can also go on our website aamcotransmissionsknoxville-kingstonpike.com and schedule an appointment
Fair Replacement Transmission Cost by Vehicle
Use the Year / Make / Model lookup tool to determine what transmission your vehicle has.



Find your transmission model in the table below for fair prices from reputable suppliers. Also fair labor cost for local installation at a local auto repair shop.


Get a free estimate on a remanufactured transmission by email.
Fair Remanufactured Transmission Price Ranges by Transmission Model Updated May 1, 2018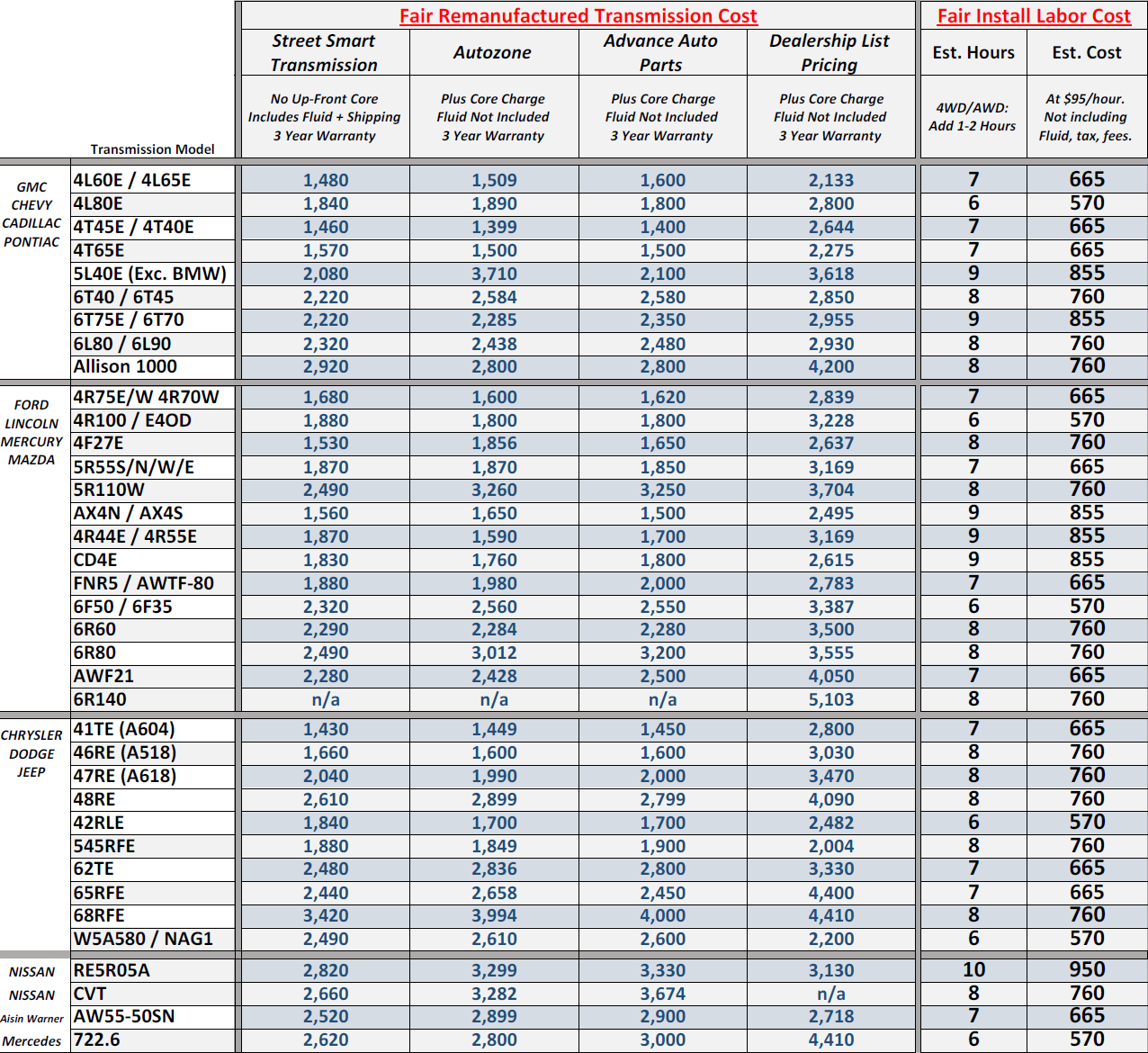 Download Replacement Transmission Cost Guide PDF
Reviews
If you've had repairs done by this shop, please leave a review below!